Section 2: Adjustments to your Statement of Account
Section 2 lists any adjustments to your account from the last billing period.
It identifies the employee's whose coverage is being adjusted and what amounts are applicable to the current and prior billing periods.
The current amount due reflects the basic rate due for the current billing period and any billing adjustments. Adding any outstanding balances to this current amount due results in the total amount due for the billing period.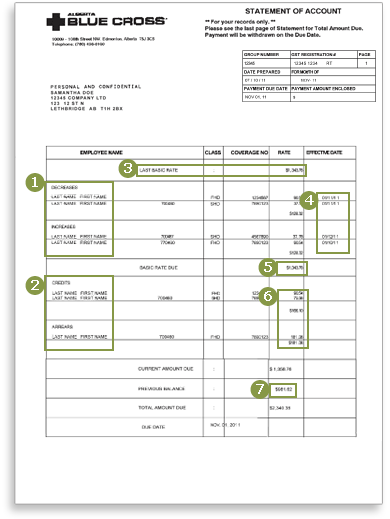 Decreases and/ or increases are employee changes processed since your last billing period
Credits and/or arrears applicable to current billing periods
Basic rate due for the prior billing period
Effective date of employee changes
This amount reflects the new Basic Rate Due including all billing adjustments since the last billing period
Adjustment amounts used to calculate the current amount due
Amount outstanding from prior billing periods (if applicable)