Interactive Drug Benefit Lists Search Tips
Check the following questions to help you search the Interactive Drug Benefit Lists.
Search the Drug Benefit Lists
An underline indicates that the text is a link. Clicking on such text will provide you with additional data. The highlighted "Details" button will link you to the product's detail page containing more product reference information.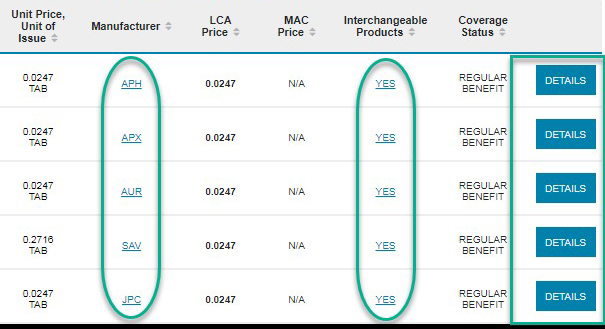 Manufacturer - If you click on a Manufacturer code, you will be provided with a pop up page that outlines the manufacturer full name and contact information.
Interchangeable Products - If you click on "YES" you will be provided with a listing of all interchangeable drugs in that grouping with additional information.
Details - If you click on a highlighted "DETAILS" button, you will be linked to another page that contains a variety of useful information about the drug such as PTC, list date, pricing, ATC, provincial drug schedule, review status and past decision history, coverage criteria, special authorization forms where applicable and more.
Once you perform a search and click into "Details", there will be a link on the bottom left corner of your page called "Glossary". Just click on the link and you will be provided with a listing and definitions for many terms contained on the site
Once you perform a search, you can find interchangeable products in the table. If the drug you are interested in has a highlighted "YES" under the "Interchangeable Products" column, than there are interchangeable products for that DIN. If the column says "NO" your product does not have interchangeable products listed.

Click on the "YES" and you will be provided with a listing of interchangeable products and quoted prices for the interchangeable grouping, along with the LCA or MAC price if one applies.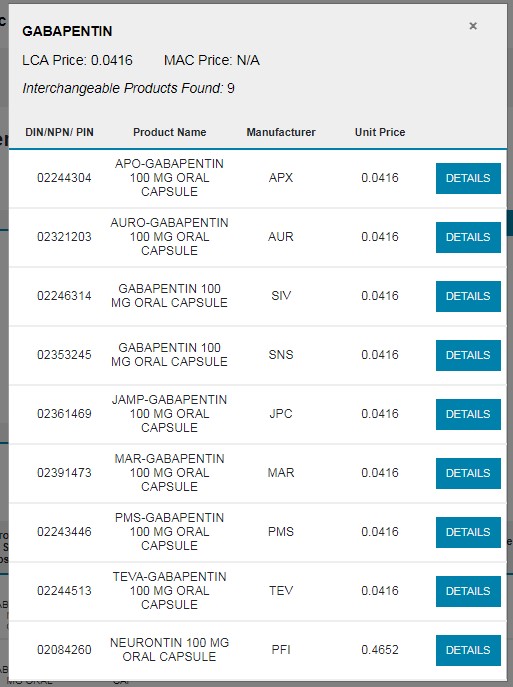 When you begin typing your query our auto complete options will generate for you. Expand the "Advanced Search" for additional options such as PTC or Manufacturer.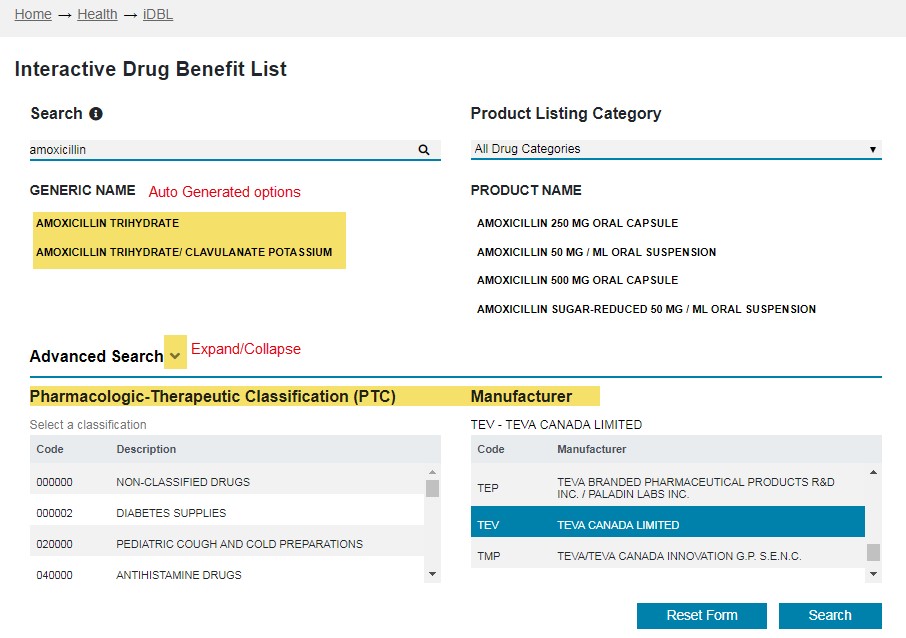 If you are still unable to find the refine your results try the "Search in Table" feature under the search bar with additional key words. The Search In Table will search within the entire query.
For example after searching warfarin below we can add a specific strength to refine our results.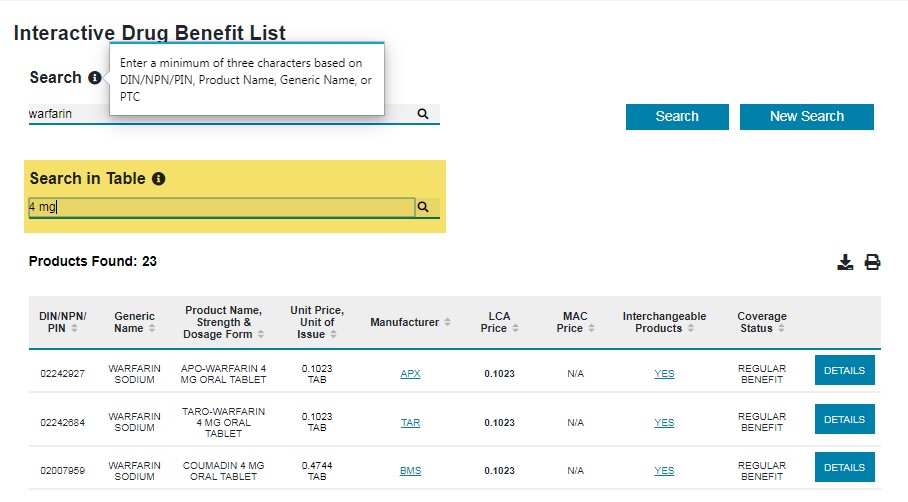 If you are unsure whether a particular product is covered as an eligible benefit for a specific group, you can easily find out by using the "DETAILS" button of your product. This page will provide you with a great deal of information, including all of the government-sponsored programs for which the drug applies as an eligible benefit.

Yes. In the main search page you can find PTC under Advanced Search by expanding the option. The list can be sorted by clicking on the Code or Description headers.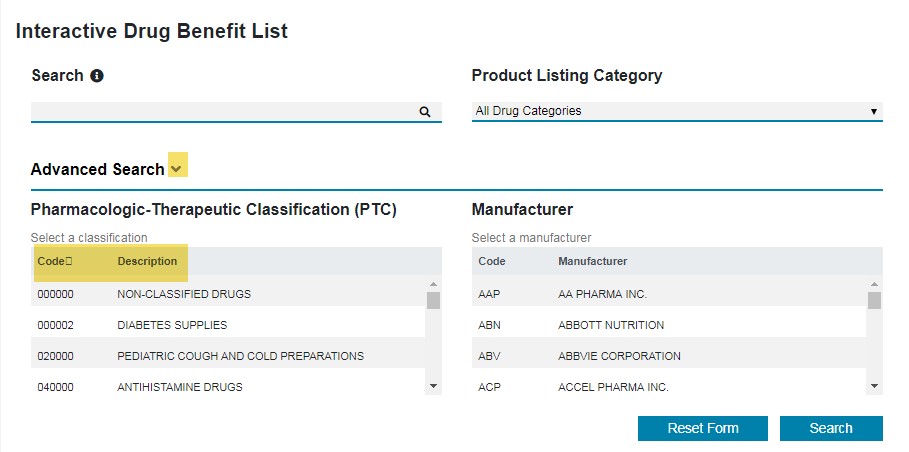 In the "DETAILS" product information page all defining PTCs will appear and a link to products within the PTC can be accessed.

If you have refined your search and are still receiving the message above, it is likely that the product you are inquiring about has never been reviewed for addition to the Alberta government-sponsored drug programs. Drugs that have been reviewed but not added to the government-sponsored programs will have a Coverage Status that indicates the product is "Not a Benefit.

The Least Cost Alternative (LCA) price is the lowest unit cost established for a drug product within a set of interchangeable drug products. When the LCA Price appears as 0.000 this means that LCA pricing is not being applied to the grouping.
Notice:
The DBL, DBS and related publications require knowledgeable interpretation and are intended primarily for professional health care practitioners, pharmacies, hospitals and organizations associated with the manufacture, distribution and use of pharmaceutical preparations.
Electronic versions of all DBL and DBS related publications are unofficial versions and are provided for convenience and private use only. Official paper versions can be obtained from Alberta Blue Cross® who publishes them on behalf of Alberta Health and Alberta Human Services.
Alberta Health reserves the right to make changes, without notice, to the List through the Interactive DBL (iDBL), and any such changes to the Interactive DBL (iDBL) are effective the date of the change (unless otherwise stated) and regardless of the date of publication in the paper version or updates.