Take a walk with us!
On Wednesday, February 7, Alberta Blue Cross challenges Albertans to get bundled up, get walking and join us for Alberta Winter Walk Day 2018.
What is Winter Walk Day?
Winter Walk Day celebrates our Alberta winter while promoting the year-round health benefits of walking. On this special day, all Albertans are encouraged to walk at least 15 minutes outside. Last year, over 120,000 Albertans took part.
Why participate?
Winter Walk Day is not only a great way to stay active during the winter months, it is a chance to come together with different groups and organizations from communities across the province to take part in the shared pursuit of keeping healthy and having fun.
Let everyone know how awesome you are
Let your family, friends and the whole world know that you're partaking in Winter Walk Day 2018 by sharing photos and updates of your walk on social media and by tagging your Winter Walk Day posts with #WinterWalkDay.
We hope you will consider accepting our challenge to get outside and take part in Winter Walk Day on Wednesday, February 7.
Is your group/organization interested in taking part?
Email winterwalkday@ab.bluecross.ca and we can provide you with promotional materials to help with your event.
Alberta Blue Cross is proud to sponsor Winter Walk Day in partnership with Ever Active Schools, the Alberta Motor Association, SHAPE Alberta (Safe, Healthy, Active, People Everywhere) KidSport, the Be Fit for Life network and Alberta Culture and Tourism.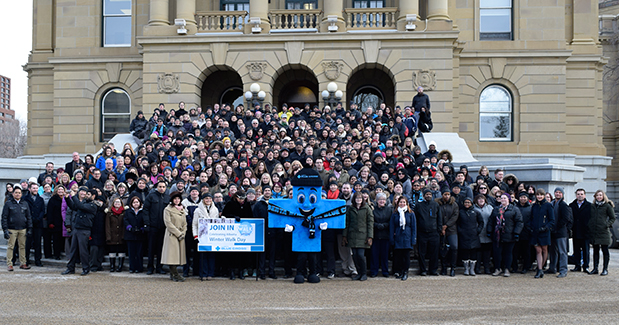 More than 400 Alberta Blue Cross employees participated in Alberta Winter Walk Day last year.
Want tips on winter walking and resources to help you plan your participation in Alberta Winter Walk Day 2018? Learn more.