Our narcotic management strategy includes step therapy for select narcotics in addition to special authorization to ensure the safe use of opioids for group customers who are on managed drug plans.
Step therapy
If a group customer needs a narcotic drug treatment for pain management, best practice prescribing suggests starting with short-acting, low potency narcotics, which are generally safer, before using long-acting or high potency narcotics. We will be using our step therapy process to ensure members try a short-acting lower potency narcotic first before coverage is provided for a long-acting or high potency narcotic.
If a member is already taking a long-acting or high potency narcotic, it will continue to be covered when the program launches because it is not safe to suddenly stop or reduce narcotic treatment without careful direction from a physician.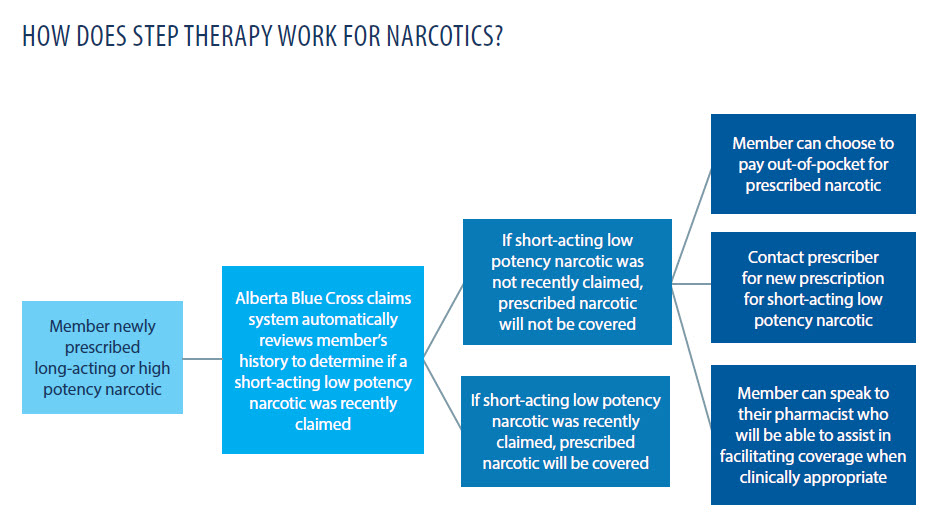 Special authorization
To ensure appropriate use of high-risk narcotics, certain high potency narcotics require special authorization. For special authorization drugs, a physician submits a request for the drug to Alberta Blue Cross® for their patient. As part of our narcotic management policy, this provides an extra layer of care and protection for our members by having the narcotic reviewed against our clinical criteria before coverage is approved.