When travelling outside your home province or country, medical care can be confusing and expensive—with your Alberta Health Care plan only providing minimal coverage. Our emergency medical travel insurance keeps you protected from the financial costs of unexpected injuries and illnesses wherever you travel.
Get an Emergency Medical Care quote
Buy now
Plan highlights
Emergency Medical Care includes:
coverage for single-trip or multi-trip plans
coverage for up to $5 million
access to 24/7 emergency travel assistance
coverage for pre-existing conditions, when stability requirements met
hospital services, prescription drugs, ambulance, medical evacuation, medical follow-up in Canada and more.
coverage for COVID-19-related expenses if you test positive during your trip, such as quarantine expenses and the cost of taking a COVID-19 test when prescribed by a physician following a medical emergency or sudden illness
10% off for Alberta Blue Cross® members who have a personal or group plan
You can receive Emergency Medical Care through Top-Up Insurance–this extends your period of coverage provided by another insurance company.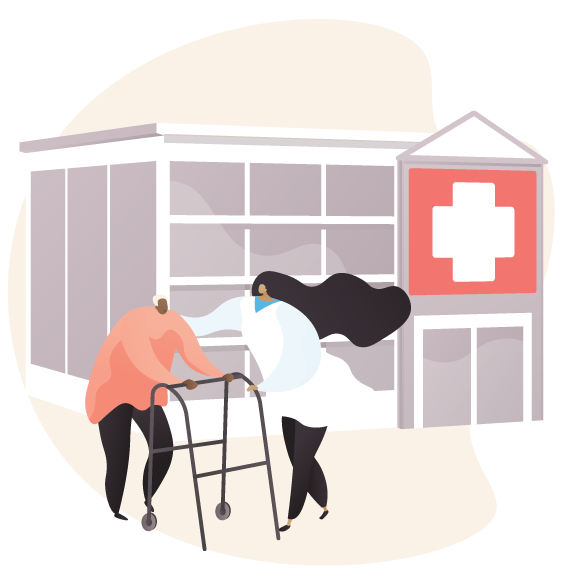 Eligibility
To buy Emergency Medical Care, travellers must be:
Canadian residents
covered under a provincial health plan for the duration of their trip
over 30 days old on the departure date
Additional conditions may apply for travellers over the age of 55. For more information, review our travel policy.
Enhance your plan with travel add-ons
Looking for extra coverage? You can add the following options to enhance your plan. These cannot be purchased alone.
Optional Protection: Pandemic
When you need to cancel or interrupt your trip due to a pandemic, Optional Protection: Pandemic is there to help cover unexpected costs.
Baggage loss coverage
Baggage loss coverage reimburses you for lost, damaged or stolen baggage.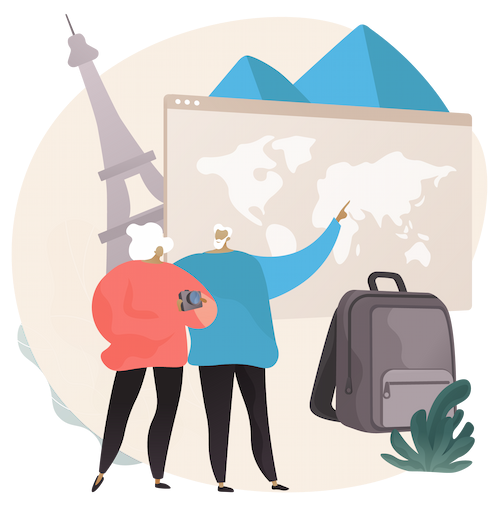 Accidental Death and Dismemberment
Accidental Death and Dismemberment cover expenses due to death or loss of a limb during a trip.
Get a quote
Finding the right coverage you need for your trip starts with a quote. Get started online or give our travel team a call. We are here to help you.
Learn more about Emergency Medical Care coverage
It covers medical or related expenses caused by an accident or emergency when you're outside of Alberta. Our emergency medical travel insurance covers medical costs up to $5 million with optional deductibles to reduce premiums. Covered costs can include:
hospital services
health care professional expenses
prescriptions and diagnostic services
medical appliances
emergency dental services
meals and accommodations
return flights because of medical delays
return of dependants, pets, personal items and vehicles
Emergency medical insurance will cover:
quarantine expenses due to a medical emergency
the cost of taking a COVID-19 test when prescribed by a physician following a medical emergency or sudden illness
If you or your travel partner test positive for COVID-19 during your trip and you need to stay at your destination, your insurance contract will be extended free of charge for:
the period you are unable to board, and
the following 24-hour period when your return home is postponed due to a positive COVID-19 test or contact tracing
While staying at your destination to receive care for COVID-19, you will receive an allowance for accommodation in a commercial establishment, meals, taxi transportation and childcare for dependent children travelling with you.
You can add it to our Emergency Medical Care plan. If you have existing coverage through your employer, you can still add Trip Cancellation or Interruption coverage to further protect your trip.
We provide quality medical coverage for seniors. We have single-trip coverage options for all ages. Give us a call to learn more about your coverage options and to purchase.
Our travel plans are designed for Albertans looking to enjoy a relaxed vacation, so depending on the kinds of activities you want to do, there is a limit on what Alberta Blue Cross® will cover. Activities that we consider to be extreme sports will not be eligible for coverage should you get hurt. In other words, if it's not considered a traditional sport, or it's made extreme and dangerous by modifying the equipment or locale, the claim isn't likely to be covered. Here are some examples of extreme sports:
ballooning or parachuting
bungee jumping
climbing or mountaineering, rock climbing
hang gliding, gliding
heli-skiing
rodeo activity
sky diving
white water rafting
ziplining
para-gliding
para-sailing
amateur scuba diving, unless you hold at least a basic scuba diving license from a certified school
downhill skiing or snowboarding outside marked trails
Be sure to read the exclusions, limitations and definition section of your contract for more details.