Five steps to build an effective wellness initiative
An Alberta Blue Cross® case study: 15-minute wellness breaks
IDENTIFY A NEED
It's easy to make assumptions about what your employees need when it comes to wellness, they can often take you by surprise. The first step in identifying a need is going right to the source. Talk to your employees and ask them direct, meaningful questions.
Using an anonymous, yearly survey that was sent to all employees as well as our comprehensive Balance® wellness program reports, we discovered that stress levels were high. We then asked our employees—how can we help manage that stress?
A step by step approach to implement a wellness initiative
In 2018, we launched our daily 15-minute wellness breaks initiative for more than 1,100 of our employees. It took discipline, commitment and a whole lot of learning.
Guiding principles
The five guiding principles below inspired our company-wide wellness program, which can be easily adopted by anyone or any organization with a wellness mission.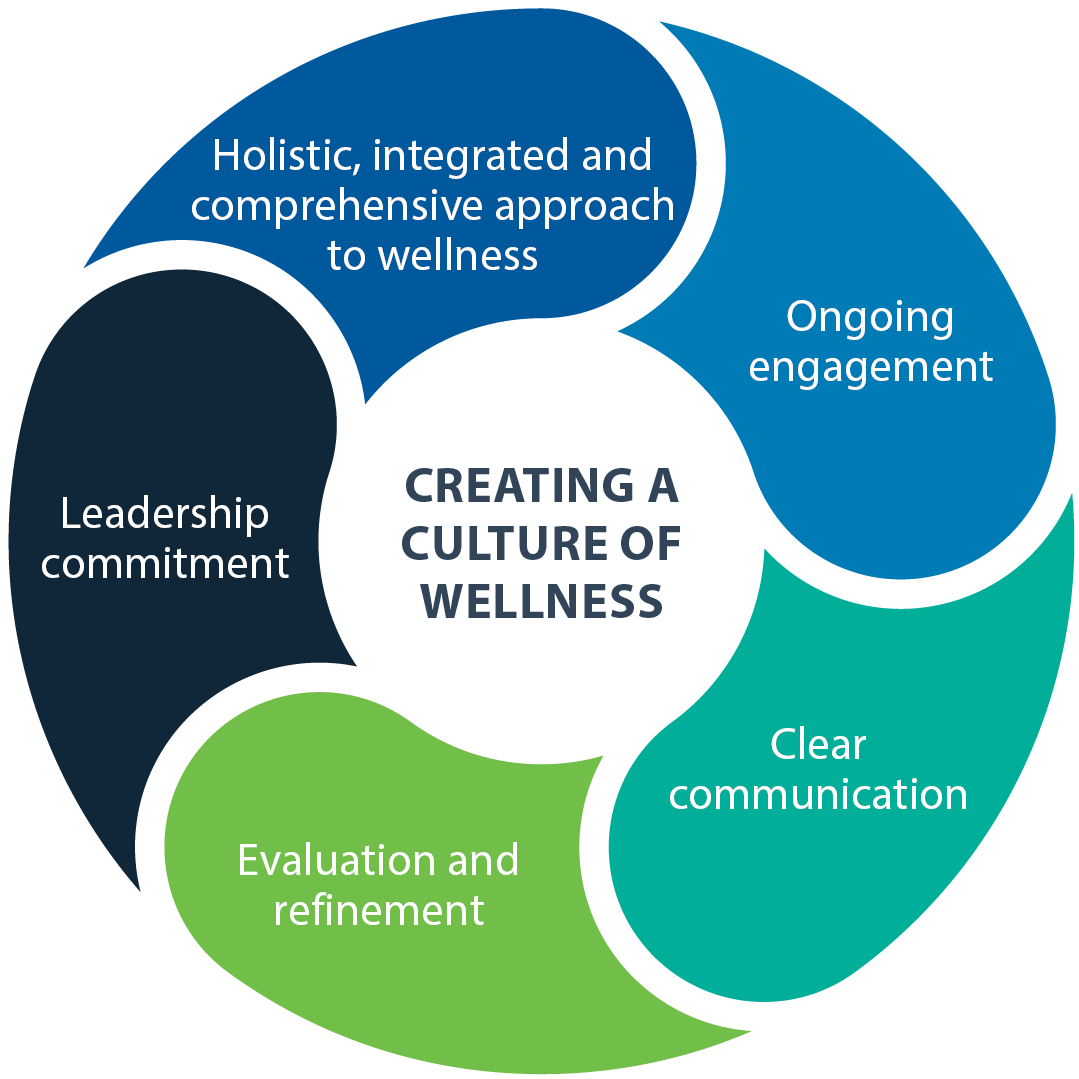 1. Leadership commitment
Change isn't possible without buy in from the entire organization—this includes your leadership team. This step can take time and doesn't happen all at once. It's important to not get discouraged.
To start, find one leader in your organization who is willing to support the wellness goals of employees. If you provide your leader with the research and information to back up your initiative, they'll be hard pressed to say no. If they are supportive, the rest will follow suit.
15-minute wellness breaks example
Alberta Blue Cross®'s vice-president of Human Resources championed the wellness break initiative after we demonstrated how this initiative focused on building a culture of wellness and encouraged employees to take a break for their overall health and wellness.
2. Holistic, integrated approach
It doesn't need to be complicated. Take the needs you've identified and create a solution to meet those needs. Depending on your workplace, your employees may not all be in the same place at the same time. Ensure your initiative can be accessed by everyone.
Consider different work styles and locations.
Consider job roles.
Consider other mediums of sharing your initiative—digitally or in person.
Get help from the whole organization—for example, use your human resources team.
15-minute wellness breaks example
Our teams identified that the biggest barrier employees faced was time to dedicate to their wellness. We created the 15-minute wellness break that was encouraged and incorporated into each employees working day with the freedom and flexibility to choose what they wanted to focus on—a quick meditation, a few laps around the building or manage financial stress and pay bills—whatever they needed to practice self-care.
3. Clear communication
It's now time to launch your initiative. Remember, a successful launch is linked to how well you communicate it.
Use clear and concise messaging.
Be innovative—share the story using a variety of mediums to help grab the attention of your employees and ensure everyone can see it.
Generate buzz with contests and teasers.
15-minute wellness breaks example
Alberta Blue Cross® launched their 15-minute wellness breaks using a company-wide email.
An email was sent to all employees endorsed by our wellness leader, the vice-president of Human Resources, highlighting the new initiative and sharing why it was being implemented.
Managers and leaders were encouraged to model the wellness breaks in hopes to encourage their employees to use them.
An internal advertising campaign was used to generate excitement and buzz around the program using posters, Alberta Blue Cross®'s Intranet and company newsletter.
We promoted the new program at our annual wellness fair that was open to all employees.
4. Ongoing engagement
Follow up with employees regularly to ensure your program is truly effective and meeting their needs.
15-minute wellness breaks example
We knew that we would need to continue promoting the wellness breaks after we launched, so we planned for ongoing engagement.
Management was encouraged to speak to their team members about the benefits of the wellness breaks and how to make them accessible for all.
A schedule of wellness break activities was shared company wide.
Multiple contests encouraging use of the movement videos made available through our Intranet for our employees.
5. Evaluation and refinement
Evaluate your success. Take time to check in with your employees and get their feedback on what went well and where you can improve. Take the improvements noted in your evaluation and apply them to your program on a regular and timely basis. Make sure you communicate changes to employees and continually advertise your program to maximize engagement.
15-minute wellness breaks example
We continue to send a yearly, anonymous employee survey asking employees specific questions about their wellness as well as how they use the wellness breaks and its impact on their work life.
We monitor facility usage and participation stats.
We monitor sick day and absenteeism rates to show trending.
We monitor the use of our Employee and Family Assistance program and supports.
Since launch, we've made several changes to our program based on employee feedback and ongoing evaluations of the resources offered. Here are just some examples of those changes.
We expanded the wellness breaks to include online videos for employees working from home and other branch offices as well as to those that were more restricted to their desks.
We adjusted our stretch session locations, offering them on different floors and work areas to make them more accessible.
Some departments, such as Customer Service, schedule their wellness breaks to ensure they are taking their breaks while still supporting customers.
Some departments have unique work circumstances that require more creative approaches and support. We adapt to those realities.
Want to learn more about how to build a wellness program or get buy-in for a wellness initiative like the 15-minute wellness breaks? Check out this quick healthy workplace assessment to first assess how your workplace supports the essentials of a healthy workplace.